Professor Nix Nominated for the 43rd Annual Annie's Awards in Hollywood, CA
Professor William Nix and the team were up for three Awards at the 43rd Annual Annie Awards: Editing in an Animated Feature Production, Directing in an Animated Feature Production and Best Animated Independent Feature.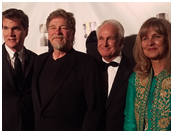 The movie (www.gibransprophetmovie.com) is showing nationally On Demand on cable/satellite systems, listed under "Kahlil/Prophet." It was also released nationally on DVD and Blu-Ray by Universal Studios Home Entertainment.
L-R are Clark Peterson/Producer, Roger Allers/Director ("Beauty and the Beast," "The Lion King," "Aladdin"), William Nix/Executive Producer, and Jennifer Dolce, one of the film's two Editors.