William Nix, Industry Advisor and Professor in the Straus Institute's Entertainment, Media and Sports Dispute Resolution Project (EMS-Straus), served as an advisor in the planning and production of a Pepperdine Law Review national sports industry symposium entitled The New Normal in College Sports that was held at Pepperdine Law School on April 5, 2013.

Steve Solot, Founder and President of the Latin American Training Center (http://www.latamtrainingcenter.com/?lang=en )and President of the Rio de Janeiro Film Commission (http://www.riofilmcommission.rj.gov.br/), is leading a small delegation of Brazilians, from its capitol city, Brasilia, in a mini-immersion industry orientation in Los Angeles from April 10th-14th.



The Entertainment, Media and Sports Project at Straus Institute, released its 2012-2013 Report of activities at Pepperdine. A copy of the Report can be obtained from this link: click here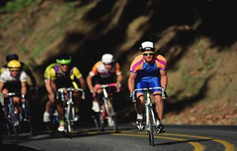 William Nix has been appointed as the Chairperson of the Association of Media and Entertainment Council's Law School Advisory Board. This Board has the responsibility to develop and implement AMEC initiatives pertaining to law schools throughout the country, including planning events and developing an AMEC Moot Court program that is slated to be held every year and start in 2014. The AMEC was formed in 2005 and is designed to support the career development and honor the achievements of in-house and business affairs attorneys at entertainment and media companies. For further information on the AMEC and its work, please see: http://www.theamec.com/about.asp.


The Entertainment, Media and Sports Law Dispute Resolution Project (EMS@Straus) was launched at Pepperdine Law School in July 2012. See: http://law.pepperdine.edu/straus/news/entertainment-media-sports-project.htm Professors William Nix and Maureen Weston, respectively the Managing Director and Faculty Director of EMS@Straus, released the following update and summary of the Project's activities and accomplishments since that time. Click here for update and summary.

William Nix is serving on a "Script Pitching" Panel at the Latin American Training Center's 4th Annual U.S. Film Industry Immersion Program in Los Angeles on November 1, 2012 (http://www.latamtrainingcenter.com/?p=1996&lang=en ). The LATC event is being hosted by EGEDA (http://www.egeda-us.com/) at its offices in Beverly Hills. He is also moderating a panel on "Apology" at the Straus Institute/Pepperdine Law School Dispute Resolution Journal's symposium entitled "Rescuing Relationships: Apology, Forgiveness, and Reconciliation" on November 2, 2012 (See: http://law.pepperdine.edu/straus/training-and-conferences/apology-symposium.htm and also http://digitalcommons.pepperdine.edu/drlj/ ). He is serving as a Judge in the National Entertainment Law Competition, being hosted at Pepperdine Law School, on November 9-11, 2012. The law student competitors are serving as advocates in respect to "fair use," "secondary copyright infringement" and "DMCA Safe Harbor" protection issues in relation to an Internet video-hosting website. For details of the underlying hypothetical please click here.

Straus Institute has launched an innovative new Dispute Resolution Project relating to the Entertainment, Media and Sports Industries. All these industries are highly developed, yet continually evolving with constant frictions among various labor, creative, technology and other constituencies. These frictions lead to regular judicial and other confrontations in relation to collective bargaining, intellectual property, commercial and other issues. While law school curricula have historically focused on the substantive law relating to these areas, with a particular emphasis on litigation, ADR has not been a principal focus of any national law school in respect to them. Straus Institute is particularly well-positioned to develop and implement a series of different programs to address this gap in academic and professional education.

William Nix was certified this Summer as a Film Commission Professional by the Association of Film Commissioner's International (AFCI). William Nix & Associates will be actively working with Film Commission Offices in the United States and internationally to assist with the production organization and project support and also as a legal and strategic advisor to national industries and governments seeking to establish such commissions and foundations in their countries.

William Nix will be teaching an "Entertainment & Media ADR" course at Pepperdine/Straus Institute during the Winter 2012 Term for the second year in a row. He will continue to co-teach the course with ADR veteran and CPG Board of Advisors Member, Gerald R. Phillips http://www.plljlaw.com/Bio/GeraldPhillips.asp , of the Los Angeles firm of Phillips, Lerner & Lauzon LLP http://www.plljlaw.com/

William Nix will be a keynote speaker at the April 19-21, 2012 "CreativeMine Roundtable on Film Finance" conference being held at the Ritz-Carlton Hotel in Atlanta. Other speakers at the event include: Morris Ruskin, Shoreline Entertainment, Richard Reiner, Shooting Star Pictures, Marvin V. Acuna of Rainmaker Productions and Jaeson Dubrovay, Hedgemark Advisors.
For further details see: http://www.regonline.com/builder/site/Default.aspx?EventID=1032325